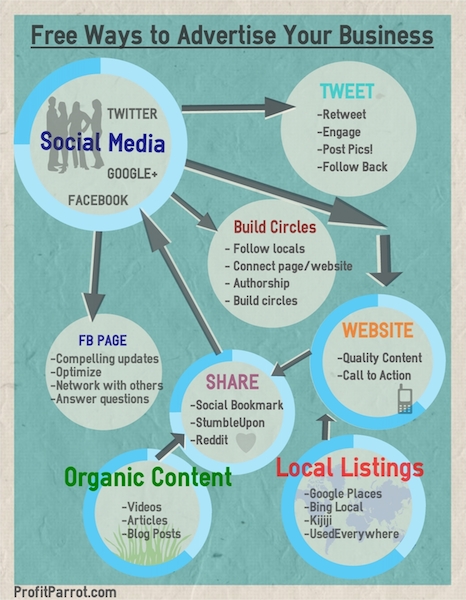 If you are looking to get more traffic to your website and generate more leads and sales then having an effective marketing plan will help your results. Part of your marketing plan should be advertising your businesses online. If your marketing budget is tight, you might be looking for some free ways to advertise your business. Here are a few of the best ways to advertise your businesses for free online.
1. Get on the Online Classifieds
A great place to start advertising your business is on local classified ad sites. Some of the top sites are Kijiji, UsedEverywhere, CraigList and Angi.com. You might need to update the listing every month so be on the lookout for those emails and stay on top of it. Being on local classified sites can help you get your business noticed quickly.
2. Get on Google Places
Get listed on Google. Add your business, listing description and address on Google places for business and your customers will be able to find you quickly and easily. This will also help your site get ranked higher more quickly in the search engines. You will need to submit your address and postal code and wait a few weeks to receive your pin card. Once you receive your verification number your site will be listed on Google Places. From there, you could also verify your business using your Google + page and profile. (which will also help your ranking in the search engines)
3. Bing Local
Even if you are a Google lover, not everyone else is. You should try to be everywhere online. If you would also like to be listed in the Bing search engines then add your site to Bing local listings . The same process applies, you will need to enter your business information and address and when your postcard comes in the mail, verify the listing online.
I'm sure you have heard it already by now but being on social media is a great and fun way to engage with your customers and help them with any questions that they have. Pictures and videos also work well and get shared more often than regular status updates. (Ask about our $75/month social media plans here)
Twitter is great for getting traffic to your website, networking with other like minded businesses, seeing what's trending in your area and answering questions quickly by direct messages. Choose to follow key industry players and establish a following of like minded users.
Facebook Pages work well if you would like to share your goods and services with your future clients. Make sure you are using your Page for business and your Profile for personal use. With a page, you can create a Vanity URL and it will allow your customers to find you easily. Share your page with others, engage with your fans, ask questions and thank them for following.
Google+ works the same way as facebook. Add local users to your circles, engage, share and join some groups that are related to your niche. Make sure you connect your other social media profiles to your Google+ profile and google+ pages.
5. Videos
Even if there isn't a creative bone in your body, you can still create beautiful and engaging videos. You could show a PowerPoint presentation, do a screen capture of a tutorial or even try out some whiteboard animation videos. Upload to YouTube and share these videos to your social media followers.
6. Articles
Write articles that help your clients. Offer advice to help them with their concerns or any questions they might have. Be helpful and give out your best tips. Once someone views you as an expert in your field, they will more likely remember your business and come to you for service or help. Link the articles directly back to your website. Some top article sites are Ezine articles, StreetArticles , GoArticles and ArticleBase. Some article sites require 400 words or more and might take up to 7 days to approve your content.
7. Blog Posts
Blogging is used best when you think you can write consistently about your niche. In order to get the most from your blog make sure you link back to your sites pages. Use keywords, use catchy images and have a call to action. (Ask about our content writing services here!)
After your article or blog post is posted, share it to your social media and also use social bookmarking sites to get your content out there quickly. (stumbleupon and reddit work really well) If the content is good, then your readers will share it with their followers.
Things to Remember
The free ways to advertise your business isn't always the fastest way. If you are looking for quick results then perhaps Adwords will get you there faster but remember with articles, blogs, videos and social media; it all creates organic content and will help your site get ranked in the search engines. Your content could stay on Google forever! If you do not think you have the time to use these techniques to help your business get ranked in the search engines with SEO then we can help!


Profit Parrot Marketing and SEO Company
Address
: 551 Osgoode Main Street Ottawa, #292, Ottawa, ON K0A 2W0
Phone: (613) 706-0057
Latest posts by Lark Begin
(see all)