SEO Services in Abbotsford
Embarking on the journey of SEO in Abbotsford is a dynamic challenge, where staying ahead demands expertise and a keen understanding of the ever-evolving landscape. Our seasoned team of Abbotsford SEO experts not only understands this complexity but thrives on it. In a world where rankings matter, we bring to you a powerhouse of experience, a passion for small businesses, and a commitment to ensuring your online success.
Mastering the Abbotsford SEO Challenge
Our team of Abbotsford SEO experts knows what it takes to get your site ranked in the search engines. Search Engine Optimization in Abbotsford is challenging because it changes constantly. Our SEO company is prepared for the ongoing changes and we know how to stay on top of the latest trends. We love small businesses! We started from the bottom and worked our way up single-handedly, and we know what it takes to get things ranked well.
Search engine optimization is not for beginners. We've probably made every mistake in the book, and we've learned the hard way that you need to do things right. Sometimes Google only gives you one change.
Boost Your Abbotsford Business Now: Unlock More Traffic and Leads Today!
Why SEO Matters in Abbotsford
SEO (Search Engine Optimization) is of significant importance in Abbotsford, as it is a thriving city with a growing economy and a competitive business landscape. Here are several reasons why SEO is crucial in Abbotsford:
Increased Online Visibility: Abbotsford, like many other cities, has a vibrant online community. People use search engines like Google to find local businesses, products, and services. SEO helps your website rank higher in search engine results, making it more likely that potential customers will find your business when searching for relevant keywords.

Competition: Abbotsford has a diverse range of businesses, from small local shops to large corporations. To stand out in this competitive market, it's essential to optimize your online presence. SEO allows you to compete effectively by ensuring that your website appears prominently in search results, attracting more potential customers.

Local Targeting: Many businesses in Abbotsford cater primarily to the local community. Local SEO strategies, such as optimizing for location-based keywords and creating a Google My Business profile, can help businesses connect with their target audience in the city. This is especially important for businesses like restaurants, medical clinics, and retail stores.

Cost-Effective Marketing: SEO is a cost-effective marketing strategy compared to traditional advertising methods. It helps businesses reach a wider audience without the high costs associated with print ads or billboards. For small and medium-sized businesses in Abbotsford, this can be especially beneficial for budget-conscious marketing efforts.

Consumer Trust and Credibility: Websites that appear at the top of search engine results are often perceived as more trustworthy and credible by consumers. SEO helps improve the quality and relevance of your website's content, which can enhance your brand's reputation in Abbotsford and beyond.

Mobile Search: Many people in Abbotsford, like everywhere else, use their mobile devices to search for businesses and services on the go. SEO includes mobile optimization, ensuring that your website is user-friendly and loads quickly on smartphones and tablets, which can attract mobile users to your business.

Analytics and Insights: SEO tools provide valuable insights into user behavior and website performance. These insights can help businesses in Abbotsford make informed decisions about their online marketing strategies, content creation, and customer engagement, allowing them to adapt and grow.

Tourism Industry: Abbotsford also has a growing tourism industry, with attractions like the Abbotsford International Airshow and beautiful natural landscapes. SEO can help businesses in this sector reach potential tourists and visitors who are searching for information on Abbotsford's tourist offerings.
SEO is crucial in Abbotsford, as it helps businesses increase their online visibility, compete effectively in a competitive market, target local customers, and build trust and credibility with consumers. It's an essential tool for businesses of all sizes looking to thrive in the digital age.
Click here to boost your Abbotsford business with more traffic and leads.
---
How Does Abbotsford SEO Work?
Harnessing the power of online search results is a pivotal strategy for amplifying your business's visibility in the Abbotsford local market. When prospective clients scout for specific products or services through search engines like Google, Bing, or Internet Explorer, they trust these digital oracles to deliver the most pertinent results keyed to their search terms. Take, for example, a user in need of HVAC repair services in Abbotsford; the search engine will favor pages that prominently feature these targeted phrases.
Navigating Abbotsford's market demands a strategic grasp and application of local SEO techniques to bolster your online footprint and captivate potential customers. Delve into these prime insights on local SEO tactics:
Local Keyword Optimization: Sharpen your website's focus by embedding Abbotsford-centric keywords throughout your content. Strategic phrases such as "Abbotsford HVAC repair," "Abbotsford restaurants," or "Abbotsford attractions" are essential to secure a spot in local search outcomes.
Google My Business (GMB) Optimization: Secure and refine your Google My Business profile for Abbotsford. Furnish it with precise, current details about your enterprise, including location, contact numbers, operational hours, and genuine customer feedback. This not only elevates your position in Google's local searches but also on Google Maps.
Localized Content Creation: Craft content that echoes the pulse of Abbotsford's populace. Narrate local tales, herald upcoming events, and broadcast community news. This approach aids in SEO and forges a stronger bond with the local clientele.
Online Reviews and Ratings: Motivate your clientele to post reviews on platforms like Google, Yelp, and TripAdvisor. A cascade of positive reviews significantly enhances your standing in local search indexes and fortifies your reputation amongst Abbotsford's residents.
Mobile Optimization: With a considerable number of Abbotsford denizens relying on mobile devices for their searches, ensuring your website's mobile responsiveness is non-negotiable. This not only augments user experience but also bolsters your SEO stature.
Local Link Building: Cultivate backlinks from esteemed local websites, directories, and organizations based in Abbotsford. Such local citations serve to bolster your site's credibility and search engines' trust.
Local SEO Metric Analysis: Vigilantly track and analyze your local SEO metrics, including search standings, site traffic, and conversion frequencies. Employ analytical tools like Google Analytics and Google Search Console to procure actionable data and refine your strategy accordingly.
By implementing these strategies, your business can achieve a prominent online presence in Abbotsford, driving more traffic, enhancing engagement, and ultimately increasing conversions.
What's the Timeline for Abbotsford SEO Results?
Results will vary with each project, but are usually seen between 4 and 6 months and when the traffic to your website starts increasing. The results will continue to increase with time and as more people are directed to your website through the search engine results. Then the focus will be on maintaining your website's position in the ranking of search results.
Benefits of Using Profit Parrot's Local SEO Solutions
---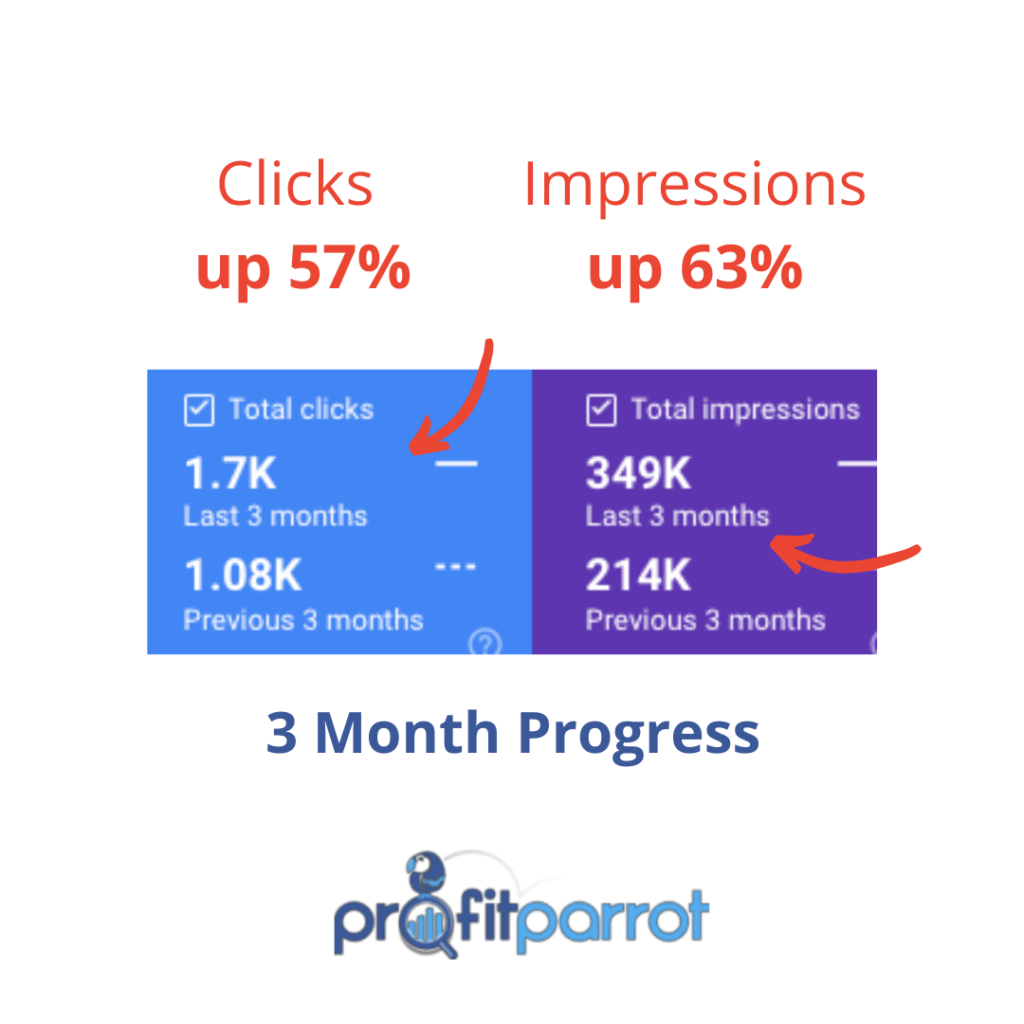 ---
How Profit Parrot Can Help
At the heart of our service offering is a comprehensive Abbotsford SEO package, meticulously crafted to amplify your digital presence and catalyze business growth within the local market. We deploy an array of bespoke strategies and cutting-edge techniques that guarantee your enterprise's prominence in the bustling Abbotsford business arena:
On-Page SEO Optimization: We meticulously refine every facet of your site, from crafting compelling meta descriptions and tags to enriching content and strengthening internal link structures. Our on-page optimization crusade is laser-focused on elevating your site's search engine appeal, bolstering relevance, and optimizing the overall user journey.
Local Keyword Optimization: Acknowledging the pivotal role of Abbotsford-specific local keywords, our seasoned experts engage in exhaustive keyword research to uncover and target the most impactful and conversion-driven search terms. Seamlessly integrating these keywords, we position your website to ascend the ranks of local search results.
Google Business Profile (GBP) Management: A robust Google My Business listing is a linchpin for local SEO efficacy. Entrust us to meticulously curate and refine your GBP details, ensuring they mirror the most current and precise information about your business—from contact details to operating hours, and from services to customer testimonials. This strategic move is instrumental in sharpening your profile in Google's local searches and on Google Maps.
Content Creation: Forging a genuine connection with the Abbotsford community sits at the core of our strategic vision. We craft engaging, locally-tuned content that echoes the heartbeat of Abbotsford, spotlighting local narratives, happenings, and community-centric news. This dual-edged approach not only propels your SEO forward but also cements a lasting rapport with the local populace.
Local Link Building: We're dedicated to procuring authoritative backlinks from esteemed Abbotsford-based websites, directories, and community entities, establishing a robust network of local citations that elevate your site's credibility and esteem in the eyes of discerning search engines.
Performance Tracking and Reporting: With a commitment to transparency, we regularly furnish you with updates on pivotal local SEO metrics—from search standings to web traffic and conversion trajectories. These insights empower you to make data-driven strategic pivots and continually refine your online marketing initiatives.
Google Adwords Expertise: Our prowess extends into the realm of local Google AdWords management, ensuring your Abbotsford-centric campaigns capture the spotlight and resonate with the intended audience. Our methodical keyword research and dynamic ad copywriting are complemented by comprehensive analytics and ongoing campaign enhancements, all tailored to maximize return on investment and drive potent lead generation.
At ProfitParrot.com, we go beyond merely boosting visibility. We are in the business of forging tangible outcomes. By customizing our strategies to align with your distinctive requirements and the nuances of the Abbotsford market, we not only aspire but also commit to propelling your business to unparalleled heights. Partner with us to command the local search echelons and witness your business soar to unprecedented success.
Some of Our Many Happy Clients
Why Choose Profit Parrot in Abbotsford?
ProfitParrot.com stands out as the top choice for SEO in Abbotsford for several compelling reasons. With a wealth of expertise and years of experience, our team possesses an intricate understanding of the local market dynamics, allowing us to tailor customized SEO strategies that resonate specifically with Abbotsford businesses. What sets us apart is our unwavering commitment to the local business community.
We recognize the unique challenges and opportunities that Abbotsford presents and are dedicated to helping local businesses thrive. Our approach combines cutting-edge SEO techniques with a deep understanding of the area's nuances, ensuring that our clients enjoy not only improved online visibility but also tangible results that drive growth and success. When you choose ProfitParrot.com, you're choosing a partner deeply invested in your Abbotsford business's prosperity, delivering top-tier SEO solutions that consistently outshine the competition.