Optimize Your Chiropractor Practice with Expert SEO Services
Welcome to our specialized SEO services for chiropractors – the key to elevating your practice's online presence and attracting a broader clientele. As experts in both chiropractic and digital marketing, we understand the unique needs of your profession. Let's unlock the full potential of your practice with targeted SEO strategies tailored just for chiropractors.
Why SEO for Chiropractors Matters
In the ever-evolving digital landscape, potential patients are actively seeking chiropractic services online. By investing in SEO for chiropractors, you position your practice at the forefront of search engine results, making it easier for those in need to find you.
Our SEO Approach for Chiropractors
---
1. Keyword Optimization for Chiropractors
Our team conducts in-depth keyword research to identify phrases like "chiropractic care," "spinal adjustments," and "wellness chiropractor" that resonate with your target audience. We seamlessly infuse these keywords into your website content, ensuring it aligns with what potential patients are searching for.
2. Local SEO Strategies
Attracting local clientele is crucial for chiropractors. We optimize your online presence for local searches, utilizing keywords specific to your location. This includes creating and managing Google Business profiles, local directory submissions, and geographically targeted content.
3. Content Marketing for Chiropractic Practices
Educate and engage your audience with informative content that establishes your expertise. Our content marketing strategies incorporate SEO-rich blog posts, articles, and resources centered around chiropractic care. This not only enhances your website's visibility but also positions you as a trusted authority in your field.
4. Website Optimization for Chiropractic SEO
A user-friendly website is a critical component of successful SEO. We optimize your site's structure, improve loading times, and ensure mobile responsiveness. By providing an exceptional online experience, we boost your rankings and keep potential patients engaged.
5. Social Media Integration for Chiropractors
Expand your reach and connect with your community through strategic social media campaigns. We integrate social platforms into your SEO strategy, promoting your chiropractic services and fostering a sense of community around your practice.
---
4 Benefits of Choosing Our SEO Services for Chiropractors
---
1) Increased Visibility: By leveraging our specialized SEO services, your chiropractic practice can achieve higher rankings in search engine results, significantly enhancing your online visibility. This means when potential patients are looking for chiropractic services, your practice stands out, making it more likely they'll click through to your website.
2) Targeted Traffic: Our SEO strategies are designed to draw in an audience that is actively searching for chiropractic solutions, ensuring that the traffic to your site is not just higher in volume but also more likely to convert into appointments. By focusing on the specific search terms and needs of these patients, we help you attract the most relevant visitors.
3) Patient Trust: Establishing your practice as an authoritative and trustworthy source for chiropractic information is key to patient retention and acquisition. Our content strategies aim to educate your audience, providing them with valuable insights and information that build trust and position you as a leader in the field.
4) Local Domination: With our comprehensive local SEO tactics, your practice will not just be present but prominent in local search results, making it the first choice for local patients. We ensure that when potential patients in your area are searching for chiropractic services, your practice is at the forefront, driving more foot traffic to your clinic.
Check out some recent snapshots of our successful SEO projects below.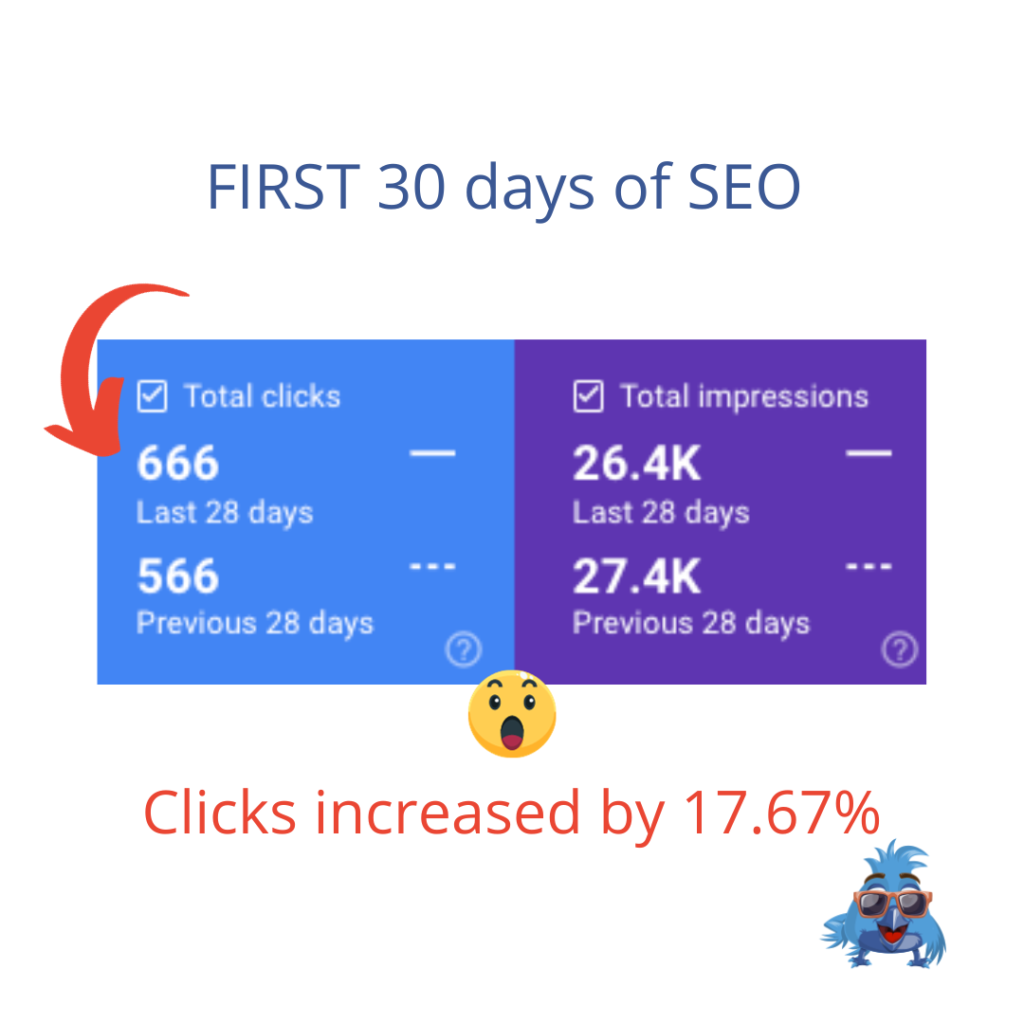 ---
Meet Some of Our Happy Clients
This team is great. They have always been able to answer any questions that I had quickly, I continue to work with them on my monthly SEO work. I'm happy so far. really Good!!!
Sebastian Cross
2022-11-22
Fantastic experience. A very competent SEO and extremely professional working style. Highly recommend.
Very quick turnaround, excellent writing abilities and great writing style. The articles were well-researched, well-organized and ready to use.
Phenomenal work. Put my client in a very competitive field to the second page of Google search results. Would definitely use again.
Matthew Farrell
2022-11-18
Quick to respond and good quality of work. Recommend 🙂
Some good results from a team that know what they are doing, thanks again.
Ethan Patterson
2022-11-16
I've been scammed by SEO agencies before so I was hesitant to start with a new company. Lark and JM were able to quickly get me the results I was finally looking for. I'm now on page 1 for several key terms and my traffic has increased. I'm very glad I found them!
A pleasure to work with!
They were able to secure high authority links for a project that was successfully delivered, well-written articles and delivery was on time. Really happy with the work.
They went above and beyond on every level. Not only did they update me on the progress of the work but was available anytime I had a question. I would highly recommend Lark and her team to anyone looking for quality work. This is my second time working with Lark and JM and I am equally as happy this go around as I was the first time.
The Importance of SEO in Modern Chiropractic Practice
Navigating the Digital Shift in Patient Acquisition
In the realm of chiropractic SEO marketing, adapting to the digital shift in patient acquisition is paramount. As more patients turn to online searches to find healthcare providers, a chiropractic practice must employ strategic SEO techniques to ensure visibility. This involves not just targeting the right keywords but also creating content that speaks to the patient's journey—from awareness and consideration to the decision to book an appointment. By optimizing digital touch points, chiropractors can effectively guide potential patients through this journey, ensuring that their practice stands out in a crowded digital landscape.
The Role of SEO in Building Practice Reputation Online
Chiropractor local search optimization is a critical component of building a practice's reputation online. When a practice appears at the top of local search results, it not only increases visibility but also lends credibility to the business. A strong local SEO strategy includes managing online reviews, local citations, and ensuring NAP (Name, Address, Phone Number) consistency across directories. By focusing on these elements, chiropractors can enhance their reputation, making it more likely that potential patients will trust and choose their services over competitors. This trust, built through strategic local SEO efforts, lays the foundation for a robust online reputation that can significantly impact a practice's success.
Comprehensive Keyword Strategy for Chiropractic Visibility
A comprehensive keyword strategy is the cornerstone of chiropractic digital marketing strategies. It's not just about peppering your website with industry-related terms; it's about understanding the intent behind the searches potential patients make. SEO for chiropractic clinics involves a deep dive into analytics to identify which terms not only drive traffic but also lead to conversions. By targeting a blend of high-volume keywords and niche-specific phrases, chiropractors can craft content that resonates with their audience, addresses their concerns, and answers their questions, thereby improving visibility and attracting more qualified leads to their website.
Beyond the Basics: Advanced Keyword Research Techniques
Advanced keyword research techniques go beyond simple search queries and delve into the analytical aspects of SEO for chiropractic clinics. This involves leveraging tools that track search trends, understanding the competitive landscape, and identifying gaps in the market that your clinic can fill. By analyzing user behavior, search patterns, and competitor keyword performance, chiropractic practices can refine their SEO strategies to target the most effective keywords. This level of research ensures that every piece of content is an opportunity to connect with the target audience and improve search engine rankings.
Integrating Chiropractic Jargon and Layman Terms for Broader Reach
Balancing chiropractic terminology with layman's terms is essential for reaching a broader audience. While it's important to demonstrate expertise with professional jargon, it's equally important to ensure that the information is accessible to the average person seeking chiropractic care. This integration helps in optimizing the website for a wider range of search queries, catering to both individuals familiar with chiropractic terms and those new to the field. By doing so, chiropractors can attract both informed patients and those in the early stages of research, thereby expanding their online presence and patient base.
Case Study: The Impact of Long-Tail Keywords on Traffic
A case study on the impact of long-tail keywords on traffic can provide valuable insights into chiropractic practice online marketing. Long-tail keywords, which are more specific and often longer phrases, can significantly boost SEO efforts due to their targeted nature and lower competition. For instance, a clinic might find that while 'chiropractor' is a highly competitive keyword, 'paediatric chiropractic care in Austin' drives more focused traffic to their site. By targeting these specific queries, chiropractic clinics can not only increase their site's traffic but also attract patients who are looking for the exact services they offer, leading to higher engagement and conversion rates.


Get Started with SEO for Chiropractors Today
Ready to transform your online presence and attract more patients to your chiropractic practice? Contact us today to discuss how our specialized SEO services can elevate your visibility, credibility, and success in the digital realm.
Unlock the power of SEO for chiropractors and position your practice for sustained growth. Your patients are searching – let's make sure they find you.
---